Description
Grade A Kinetic Sand Beach Castle Building Play Set
Features:
Kinetic Sand is the squeezable sand where you can feel the fun! Pack it! Pull it! Shape it! Love It! You'll never want to put it down!
You can mold it, sculpt it, and write on it just like wet beach sand, but Sand is completely dry and only sticks to itself — not your hands!
The unique of kinetic sand simply has to be felt to be believed. It oozes when you squeeze it, yet you can sculpt it and it will hold its shape.  And watching it flow is simply mesmerizing.
Playing with Kinetic Sand is a magical and mesmerizing experience, giving a moment of relaxation for both young and old. Sand is non-toxic and never dries out.
Now available in multicolours will also colour your children creative mind!
Stimulates children's creativity, easily cleans up and it sticks to itself, not to you!
It's 98% sand, 2% Polymers and 100% fun! It's also gluten free!
Made for kids ages 3+.
Product Description
It's more fun when it's Wacky! Kinetic Sand is the squeezable sand where you can FEEL the fun! You've seen it before, but you've never felt anything like it! Pack it, pull it, shape it and love it, Kinetic Sand is so incredible you can't put it down. It's kinetic – meaning it sticks to itself and not to you! It oozes, moves and melts right before your eyes. It flows through your fingers like a slow-moving liquid, but leaves them completely dry. Kinetic Sand stimulates children's creative skills allowing them to create anything they can imagine over and over again. Comes with multicolors, kids can mold and play in their favourite colors! Thebig container easily stores the sand. Kinetic Sand never dries out and is gluten free. This soft and stretchy sand easily cleans up while delivering non-stop fun! It's squeezable sand you can't put down. Feel the difference with Kinetic Sand!
Need inspiration for quality time for boys and girls, and young-at-hearts? This classical casstle theme makes it easy to find inspiration, and participants quickly become involved in deciding what kind of castle to build.
Every Child Has A Dream Castle
Making the castle look old or modern, or even crazy or beautiful – it's all in the hands of the creator. Use Castle Moulds to form the foundation of the castle. Personalize it with your own ideas for the windows, roofs, flags, and combinations of shapes – and even more ideas will arise during the creative phase.
Let The Fun Begin!
Aside from providing a fulfilling fun time for your mini-me's, this Kinetic Sand Beach Play Set set cultivates your children's creativity and imagination. It helps to stimulate children's fine motor skills and gives them the experience, excitement, exploration and discovery all at once! This play set is great for developmental skills and learning minds. Now bring the beach home with our Kinetic Sand Beach Play Set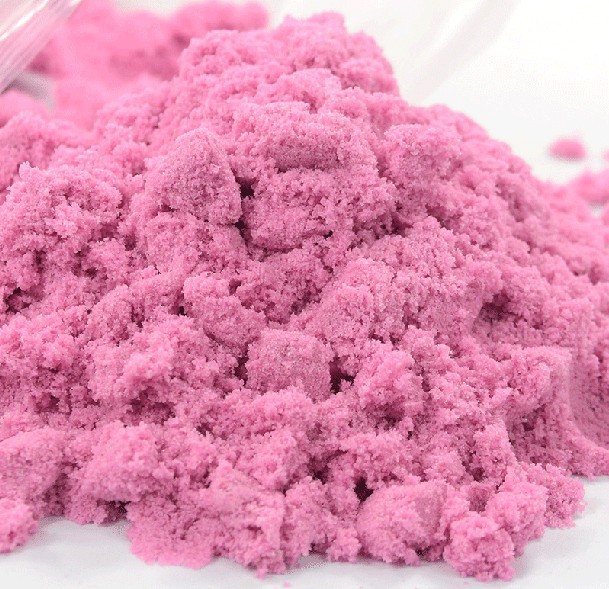 神奇太空沙、不会干的儿童益智玩具沙、火星沙、月亮沙配方生产技术
太空沙,又称玩具沙,它的成分是来自于深海细沙,经过高温处理,消毒。含天然的胶水、保湿剂、化妆颜料,
颜料是天然的植物纤维提炼而成。太空沙的手感柔和、无气味、能够反复造型、塑性强、不沾手。颜色可以做
成多种:红、蓝、黄、紫、绿、橙、绿等。不会变硬,也不会风干。太空沙可以反复造型,小朋友可以按照自
己的思维去任意创作,可以锻炼小朋友的心智、EQ。可以进行亲子游戏,幼儿园小朋友也可以作为互动游戏。
但是现有的太空沙的原料来源窄,并且产品的塑性不强,不具有塑性拉伸的性能。
本玩具太空沙采用细沙作为主要原料,来源广泛,并且产品具有良好的可塑性,能够进行拉伸塑形,具有很
好的可玩性和趣味性。本技术生产出的产品环保卫生,无毒无害,操作性强,可随意造型。沙子细腻松软,
似沙非沙,手感细腻,不粘手,反复使用,永不变干,永不变硬,可塑性超强,流动效果明显,色彩素雅多
姿,握在手里感觉自己拥有一片沙滩。不论是模具压造型,还是雕刻模型,拉伸塑形都可以完成,具有很好
的可玩性和趣味性。本产品极易塑形,适合开发小孩的创造力和想象力,手脚协调力很快就被提高。不会变
干,可以一直玩下去。沙子怕水,如果不小心沾水,可以阳光晒干或者电吹风吹干,就会恢复。不容易粘手
,不会粘在模具上。如果手上有汗水的时候,会沾一些沙子,轻轻拍下就又会干干净净,或者拍一拍沙子,
就会粘回沙堆,而手指干干净净。
一、太空沙(玩具沙)的功能特点
1. 功能全面,大众化,适合3-80岁年龄段人士。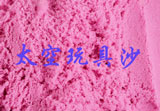 –有无限的创意空间,即使不用模具也能创作无限的造型。
–可以用作儿童玩具,可当沙玩,也可以当彩泥玩, 给孩子带最原始的快乐。
–可用于大中小学乃至幼儿园艺术教材,培养动手能力,艺术想象力。
–可用于沙雕创作,发展有益身心健康的兴趣爱好,陶冶艺术情操,给生活带来更多
乐趣,给身边的儿童带来积极的影响。
2. 粘性好,易造型,不粘手,可反复使用,无需加水,永远不会变干。
玩具沙有良好的自粘性,非常易于造型,但又不会粘在手上。
不使用的情况下,可以保存多年不会变干,不会变质。
经常使用的情况下,可以反复玩半年以上。
无需加水,不会变干,更不会变硬。
3. 安全无毒,手感细腻, 色彩丰富。
使用天然的细沙加环保胶水和颜料,安全无毒,不伤手,多种颜色搭配,作品更丰富,更美观。
二、使用方法和创作技巧
1. 绘画,可以用于模板,也可以手绘。
2. 浮雕,小心地把描绘线以外的沙挖走,对局部进行增减,便可做成一幅漂亮的沙雕艺术作品。
3. 堆砌与雕刻
用一团玩具沙堆出鱼的轮廓并压实,按照鱼的特征,用工具刀挖走多余的部份,刻出纹路,一条跃然欲动的鱼
做雕出来了!

4. 立体雕刻
用玩具沙堆出立目标造型的轮廓,使用工具或刀片进行雕刻。
直接把一团沙压实,可以轻易雕刻出各种简单的动物造型。
用过纸盒、塑料筒、塑料碗、卡片、杂志等生活用品都可以来做模具,协助制作各种
几何形状,然后加以雕刻成型。
5. 组合造型与创意
综合运用模具、立体雕刻、浮雕等多种手法创作组合作品,乃至大型环境艺术作品。