Description
Diamond Microdermabrasion Dermabrasion Peeling vacuum facial cleansing skin care machine wrinkle acne remover
How many Functions of the used microdermabrasion machines ?
1) Diamond skin peeling
The exfoliating tip of diamond dermabrasion beauty machine provides a non-invasive treatment to rub off top skin layer, so that to remove the dead cell. Makes skin smoother, with more refined texture, and firmer by stimulating your natural cell renewal
2) Face lifting
Diamond Microdermabrasion machine with the vacuum Lift System creates a gentle stimulating massaging action, stimulate microcirculation, makes firm skin and tightening face.
3) Deep Pore cleaning
Diamond Microdermabrasion machine with unique small round hole design, could suck acne, blackhead, or dirt inside the pores. So as to deep clean the pores and remove the acne.
4) Wrinkle removing
Diamond Microdermabrasion machine with unique small elliptical hole design, creates gentle massage and stimulate to the corner of the eyes, nose, mouth, deep influence in the deep skin, so that to remove wrinkles and prevent deep wrinkles.
Advantages 
Three kinds of adjustable switch
5V USB rechargeable design, 850mAH built in battery, convenient for charging
Four interchangeable and washable tips with 4 different functions, easy for install and cleaning
Feactures:
4 different functions can be arbitrary demolition interchangeable beauty head, easy to install, easy to clean
High, medium and low-speed adjustable intensity
5V USB charging, 850mAH built-in high-capacity rechargeable batteries, convenient charging, use longer
LED charging indicator: charging red light, green light after charging is completed
Low battery Tip: When the battery voltage is below the desired voltage, three blue lights flashing prompt charging
Safe and reliable, no harm, no side effects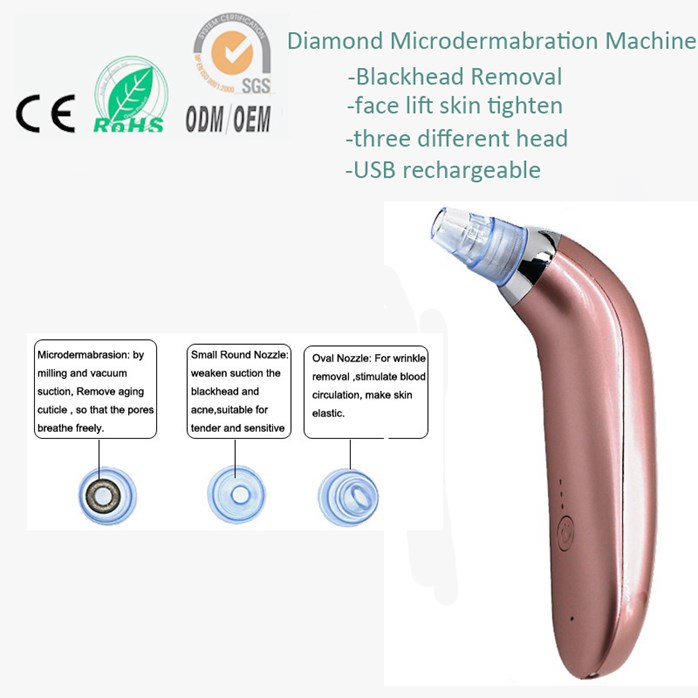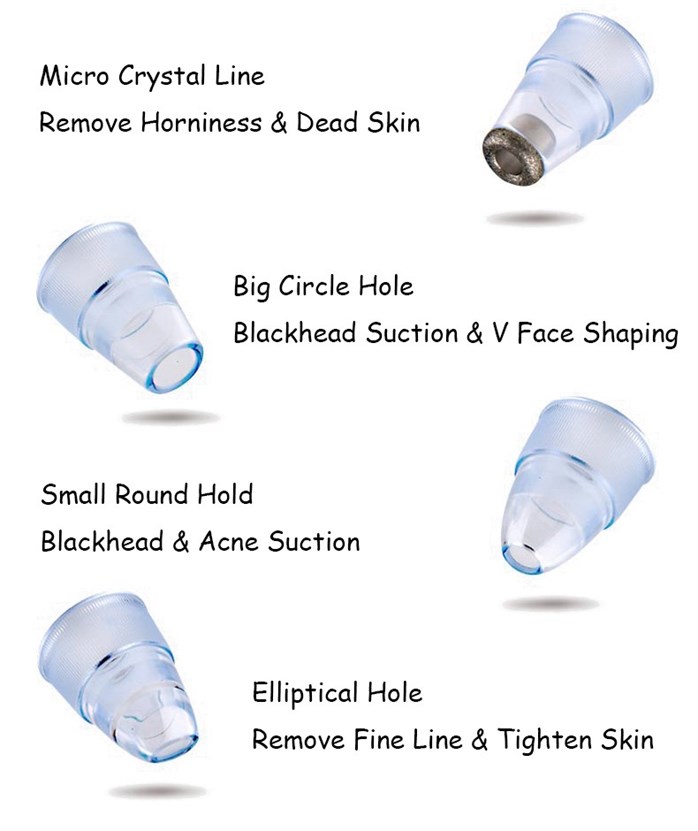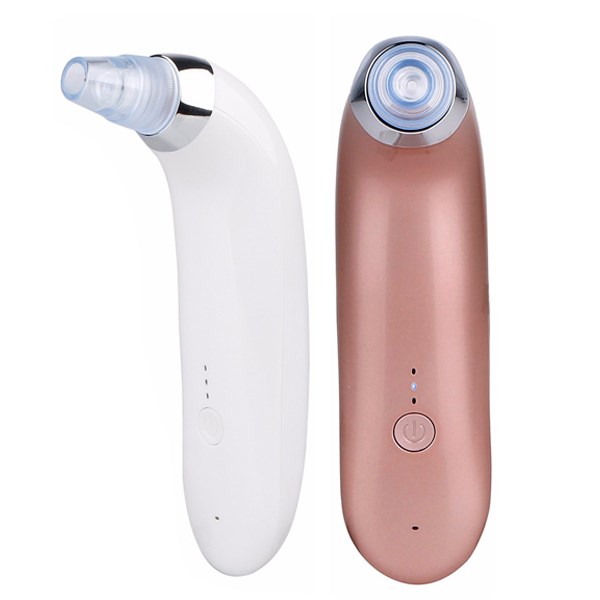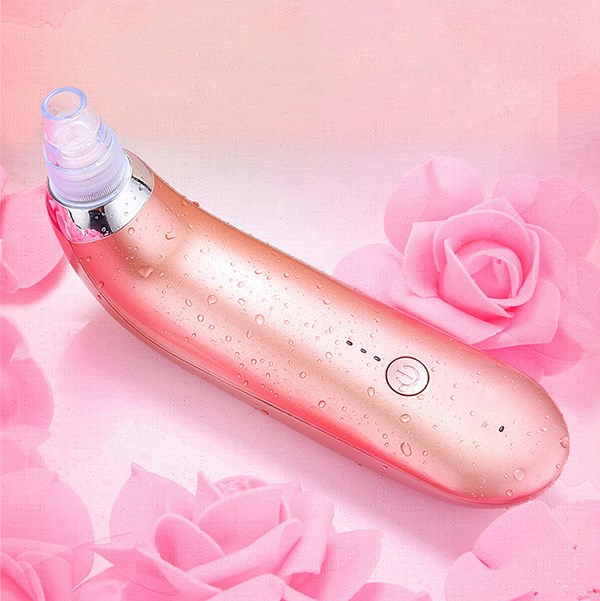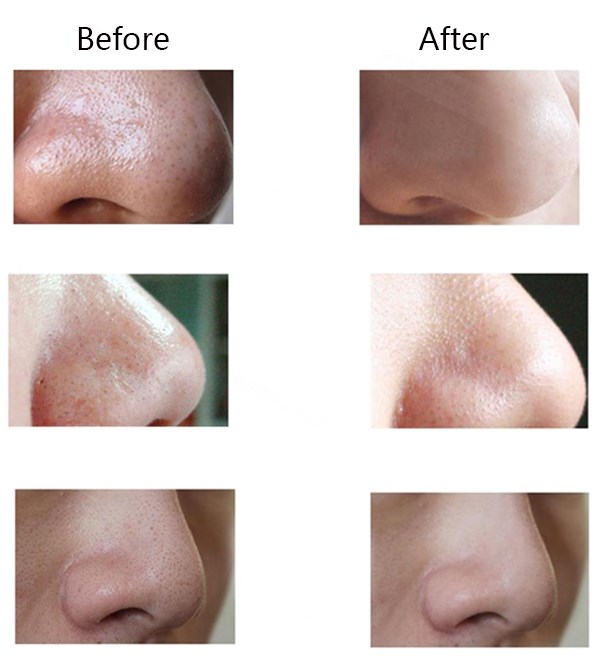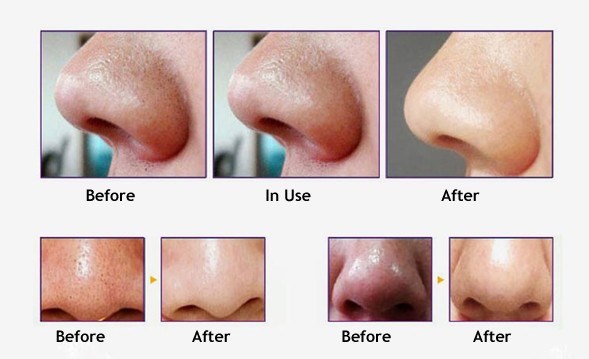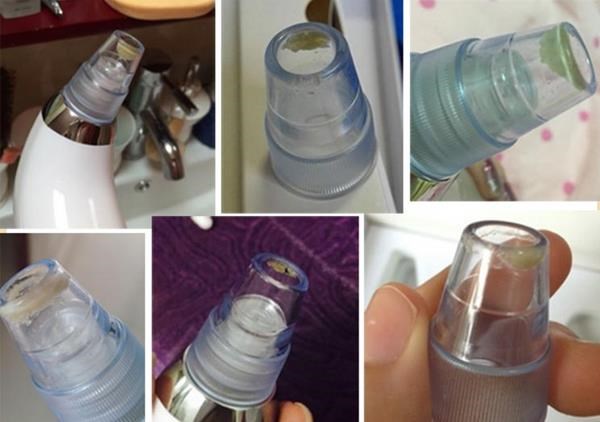 Rejuvenation of sun damaged skin – face and neck.
* Reduction of age spots.
* Minimization of blotchy skin coloring.
* Reduction of acne and superficial scars from past injury.
* Extraction of blackheads and whiteheads.
* Reduction of oily Skin.
* Improvement of overall skin health.
Lines, Wrinkles, and Aging
According to the American Academy of Dermatology, aging skin cells produce excess amounts of free radicals which are unstable oxygen molecules. Wrinkles are part of the Aging Process. Under ideal circumstances theses are removed by naturally occurring antioxidants within the skin's cells. With older skin cells the antioxidants are in short supply leaving free radicals on the skin. The remaining free radicals damage the cell membranes, proteins and DNA of the skin and eventually will break down the collagen. Chemicals are released during this process and inflammation occurs. It is a combination of these cellular and molecular events that lead to wrinkles and aging.
Rejuvenate Your Skin with Microdermabrasion
To appreciate the benefits of microdermabrasion, it is important to understand how the skin maintains its appearance by replenishing itself.
Advantages of the handheld microdermabrasion machine:
1. Dead skin cells removal
2. Epidermal thickening
3. Firming and smoothing skin.
4. Stimulate the skin cell renewal process.
5. Massage the skin.
6. Encourage blood circulation.
7. Cordless
8. Easy handling